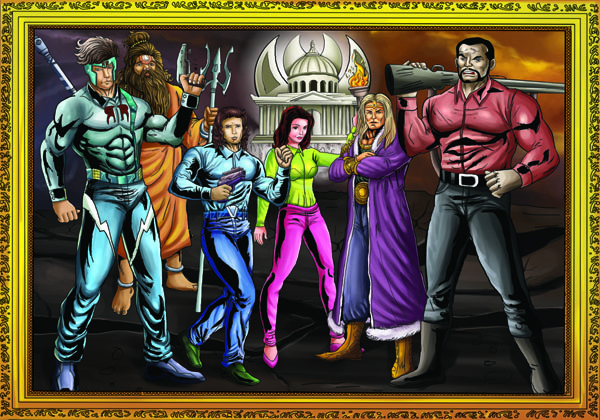 Business Plan of RMN Company for Investors
by
Rakesh Raman
New Delhi, India
http://www.rmncompany.com/
Business Summary
Raman Media Network (RMN) Company, which commenced its operations in 2010, is a privately held venture, working in diversified content creation, management, and distribution businesses on a global scale.
While content for the mass markets is the backbone of its operations, it is building allied businesses around multiple content streams using traditional as well as new-media / digital platforms.
All the activities in this business are closely integrated with each other to leverage economies of scale and stay competitive in the marketplace.
Business Activities
The company's business activities cover three essential components:
1. Content – For information consumers. It will be news content on different market segments (like Technology, Sports, Health, Fashion, Films, Food, etc.) as well as entertainment content like custom videos, Webisodes, graphic novels, books, e-books, animation films, etc.
2. Communications – Targeting top companies that want to promote their brands, this business is an extension of our content business and will carry out digital marketing and promotional brand communications campaigns for corporates.
3. Commerce – These Web properties will be part of the Content properties mentioned in (1) above and provide e-commerce platforms for consumers to buy products belonging to a particular segment. For example, the Technology content site will also allow consumers to buy mobiles, tablets, TVs, etc.
The above activities are explained below as individual business areas:
1. News Properties
Description: As mentioned above, these always-on news properties will be on different subject areas and will provide the latest information to consumers in multimedia content forms – text, pictures, graphics, animation, videos – delivered on different frontend devices including PCs, tablets, mobiles, TVs, etc.
Revenue: Display ads, text ads, sponsorships, lead generation, subscriptions, microsites, marketing campaigns, e-commerce.
Potential Customers: All top companies with leading brands and in some cases consumers as paid subscribers or content buyers.
Market Overview: Currently, the total ad market is estimated to be about US$ 500 billion. As we will mostly be operating in the new-media / digital space, the share of digital ads in the total market is about 15% – roughly US$ 75 billion.
This is the right time to enter this digital news market because almost all traditional players are trying to adopt digital platforms and all of them are new in this space. So, the market polarization is minimum – which will give us an equal opportunity to grow. By providing content exclusivity, we will have our substantial share in the market.
Current Status: In this area, we have already created four (4) news properties for global consumers. These are:
RMN Global News Service – http://www.ramanmedianetwork.com/
RMN Digital (Tech Content) – http://www.rmndigital.com/
RMN Kids (Children's Content) – http://www.rmnkids.com/
RMN Stars (Entertainment Content) – http://www.rmnstars.com/
2. Publishing
Description: This business is about producing long-format content that has a long shelf life. For example, books to be sold through traditional and digital media channels. The focus will be on entertainment products like graphic novels, comic books, etc., which can also be used in our film-based entertainment content.
Revenue: Sale of books and sponsorships.
Potential Customers: Consumers particularly tweens, teens, and young adults all over the world. In some cases, corporate sponsors.
Market Overview: While there's a limited demand in the emerging markets, the market is huge in advanced parts of Americas and Europe. These books can go in millions of units for supplementary education in schools and in the open market where consumers demand published edutainment content.
Current Status: We have already started this activity and published five (5) titles for consumers in the global markets.
Here's the link: http://www.rmnkids.com/raman-media-network-books-for-children/
3. Digital Marketing Services
Description: As traditional media is already facing numerous challenges while more consumers are using online and mobile sources for their content needs, companies are looking for more digital options for brand marketing and communications.
Unlike traditional media ads, this is supposed to be an ongoing activity for brands to engage consumers. We will create the complete content and carry out digital marketing for such brands – mainly for digital media but sometimes for traditional media also as this transition is happening.
Revenue: There is a huge revenue potential from all major corporate brands.
Market Overview: Today, these services are provided by some big ad agencies that have created their specialized units for handling digital media campaigns and digital marketing. However, most of them are using old techniques of just creating Websites for brands, which is only a small part of this activity.
Our USP will come from our content strength, as content is the backbone of any digital media marketing campaign. We will also use our content properties to run these campaigns.
Current Status: We have already started offering these services in the market as an exclusive activity.
Here's the link: http://www.rmndigital.com/digital-marketing-services/
4. Events
Description: These are physical events arranged for particular business communities. For example, these days, most tech vendors are targeting small and medium businesses (SMBs) to sell their products. These events are organized as awareness programs for these SMBs in different areas. We can create and offer these events as our branded properties under our content services. As these will give networking opportunities to vendors, they will sponsor these events.
Revenue: Corporate sponsorships and in some cases paid events.
Market Overview: Our content will be our strength to offer event services. This activity may not be as lucrative as our other offerings, but it can bring some regular income in the company. Later, when the concept of Web events gets popular, we will convert our event properties to Web format.
Current Status: We have offered these events in association with UNIDO and the Federation of Indian Export Organizations (FIEO).
Here are the links:
http://www.rmndigital.com/unido-and-rmn-hold-digital-marketing-training-for-smbs/
http://www.rmndigital.com/smart-exporter-technology-awareness-program-for-exporters/
5. Entertainment Content
Description: This is a huge business as the entertainment content market has always been growing. This business is closely linked with our Publishing business described above. Here, based on our published content, our market offerings will include digital video games, Web series, mobile videos, animation films, and live-action films.
Revenue: Millions of worldwide entertainment content consumers and companies for in-film ads.
Market Overview: Currently, the main market for this type of content is in Americas. However, emerging markets including China and parts of Europe can also be targeted.
Current Status: We have already initiated this activity through our Publishing business. This can instantly take off from here to produce new-media entertainment content.
Related links:
http://www.robojitandthesandplanet.com/
http://www.rmnkids.com/raman-media-network-books-for-children/
Future Areas of Operation
Depending on the market demand, our activities can evolve to adopt future technologies, including:
Virtual Worlds
Semantic Web
The planning for this will begin now.
Important Points
As all the business areas are connected with each other, we can recycle our content to create totally new products. It will save enormous costs for us and go-to-market activity will be faster.
With focus on process-based content quality, we can develop a significant business for us.
Skills shortage will be a challenge.
At present, I am managing all this business alone – without any support.
Other points can be discussed.
Interested investors from all parts of the world can contact me through the online form given below.
Thank You
CEO, RMN Company
You may please contact me using my official e-mail or personal e-mail.