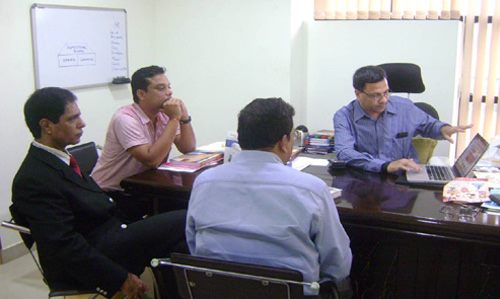 RMN Tech Total Program for Emerging Businesses
Extending the scope of its technology services for growing businesses, Raman Media Network (RMN) Company has now introduced its Tech Total Program specifically designed for small and medium businesses (SMBs) all across the world.
The Tech Total Program is a combination of ICT (information and communications technology) infrastructure selection, deployment, consulting services, digital marketing, and project implementation based on the specific needs of individual user companies.
Research shows that since smaller companies follow a half-hearted approach toward technology adoption, they are not able to leverage technology for their business growth. And the little money that they spend on technology also goes waste because they lack domain knowledge and can't use technology effectively.
RMN Tech Total Program helps companies overcome implementation challenge, as it empowers them to adopt technology and introduce an enterprise-wide technology culture in order to meet their core business objectives including growth in the local as well as export markets.
The Tech Total Program includes the following modules:
Technology Selection: Covering backend and frontend tech infrastructure, RMN Company will analyze the needs of your organization and select the right technology gear at the right price for you.
The technology selection process includes computer hardware, systems software, application software, local and longhaul connectivity, mobility, information security, local and cloud storage options.
Deployment: After procuring the required technology equipment from the selected vendors, RMN Company will help you deploy hardware and software systems efficiently.
It includes the installation of computer servers, frontend client machines, operating systems, enterprise resource planning or ERP software, business communications software, and so on.
Implementation: Integrating various hardware, software, and networking components, RMN Company will enable its customers to implement complete technology solutions to automate their business processes.
Depending on their need, RMN Company can also create or refine the business processes of its customers.
Support: In order to ensure smooth functioning of the implemented systems, RMN Company will interface between tech vendors and its customers to get proper post-sales support from vendors.
RMN Company will also help its customers get effective service-level agreements (SLAs) from vendors to achieve higher availability levels for the complete technology infrastructure.
User training, scalability, total cost of ownership, and return on investment (RoI) analyses are also part of our service offering to our customers.
Manpower Selection: It is observed that most companies are not able to use technology effectively if they do not have in-house skills to implement information systems.
RMN Company will help user organizations select and employ IT managers so that they could get full benefits from tech systems.
Web Connectivity: This is among the most important imperatives for smaller companies to grow in today's always-on and digitally connected business world. RMN Company helps its customers leverage Web technologies to expand their businesses all across the world.
Our Web offering includes Website development along with hosting support, content creation for the Website, digital marketing, digital sales or e-commerce, business development, brand promotion using Web / dedicated social media platforms, Web traffic management, consumer engagement, and so on.