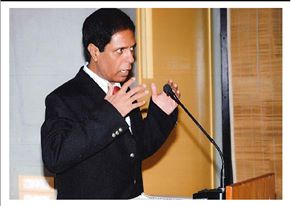 Dear Friends,
RMN Company is in the process of building a worldwide community of Thought Leaders who could leverage our global online news services RMN Digital and RMN News Service to express their views on different current affairs and burning issues in the world.
RMN Digital accepts articles on technology and related tech-business topics. And RMN News Service accepts articles on other subjects such as general business, health, sports, fashion, entertainment, travel, education, politics, religion, and so on.
For "Thought Leaders" sections on both the sites, the writer should be the CEO, COO, CMO, Founder or in a similar position in the organization. Or, at least, their name should appear in the "Executive Team" list of the organization's website.
Independent writers, who do not belong to any organization, can also become part of our "Thought Leaders" sections provided they are well-known in their field of activity.
The "Thought Leaders" sections publish articles in two formats:
1. Interview Articles: In this format, we interview top leaders of the world with an array of questions on specific issues.
2. Opinion Articles: In this category, leaders from different fields contribute their articles to shed light on various global trends.
You can visit our "Thought Leaders" sections to meet the leaders who have been featured on these sites:
Thought Leaders on RMN Digital
Thought Leaders on RMN News Service
Corporate communications executives, Public Relations (PR) people from different organizations, and individual leaders can contact us with their proposals for our "Thought Leaders" sections.
Main guidelines for the writers to write opinion articles for "Thought Leaders" sections:
1 Each article will be of about 700 – 800 words.
2. The writers will write original articles, exclusively for RMN Company site(s).
3. It will be written in simple language without using any jargon. Currently, we are accepting articles in English language only.
4. References, if any, will be mentioned in the running text of the article without using any external hyperlinks.
5. The article will always be written in a neutral tenor without promoting any particular company or brand. However, you can keep the focus on the type of products / services that your company is offering.
6. The writer's introduction of about 50 words will be used at the bottom of the article. Here, the writer can give one hyperlink to their site, blog, or social media page.
7. If required, we will edit the article to ensure clarity for the readers.
8. If the article is selected for publication on our site, we will need the writer's low-res photograph (headshot) to be used with the article.
9. This is a free service for which you do not have to pay anything to us. Similarly, we will also not make any payment to the writer or their organization.
10. The decision to accept or reject the articles will always rest with the RMN Company editor, Rakesh Raman.
You may please contact us with your proposals, briefly informing us about the writer's profile and the topic on which they want to write for us.