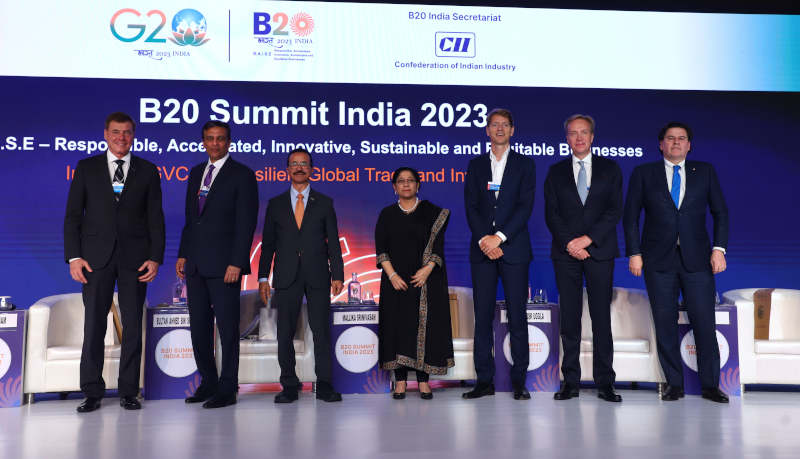 EVOLV NextTech 2023: Empowering a Million Entrepreneurs
Evolv Next Tech 2023 – a side event of the B20 India Summit was organized in New Delhi.
According to the Confederation of Indian Industry (CII), EVOLV is its initiative which is designed to empower entrepreneurs with an action-oriented global framework. 
Following the theme "Empowering a Million Entrepreneurs," the research-based, data-driven initiative's objective is to build a strong alliance of the world's most innovative tech startups that will grow to become drivers for technological leadership and economic growth in the country.
Evolv Next Tech 2023 – a side event of the B20 India Summit was organized on Thursday, the 24th of August 2023, in New Delhi.
The event showcased sessions with leading innovators across the globe from different sectors. The key areas of focus during the program were AI/ML, Quantum Computing, Cyber Security, BioPharma, Blockchain, Robotics, and more. 
With AI being one of the key areas, the conversations revolved around cost-effective solutions, highlighting the impact of Generative AI on the future of work and insights on how technological innovations can be pivotal to advancements in different sectors.
Introducing the EVOLV NextTech 2023, Rajan Navani, Co-Chairman of the CII Silicon Valley Committee, Chairman of CII's India@75 Council, Founder & CEO of JetSynthesys, highlighted the importance of creating a bridge to support ecosystems by bringing together startups, large corporates, government regulators in India to connect with companies in the Silicon Valley to drive growth. 
He stated that EVOLV is a strong, data-driven, data-led platform that will connect multiple stakeholders around a strong fundamental basis that looks at data as its source of decision-making.
In his opening remarks, Ram K. Reddy, Co-Chairman CII Silicon Valley Committee and Chairman & and CEO StrategyR, USA, impressed upon how CII's member base is a powerhouse contributing to the Indian economy and how this can be leveraged to strengthen the connection to the ecosystems of the world through a data-driven engagement. 
He further mentioned that EVOLV is a platform where we can use data in a democratized model through an engagement platform without any charges but based on real value creation, genuine caliber, and willingness from startups, enterprises looking to scale, investors, and government.
However, CII did not reveal how entrepreneurs can use the so-called EVOLV platform to achieve growth.